Training
Training has resumed at our new grounds at Blacktown Showground, Kent Street entry, Blacktown
Instructors:
All Instructors at BK&TC are volunteers who donate their time, energy and experience to assist you to improve your relationship with your dog. BK&TC Instructors and committee members are all active in the 'dog world' and include Obedience and Breed Judges. Instructors participate in a range of activities such as competitive obedience, agility, showing, gundog working tests, doggy dancing and pets as therapy programs within hospitals.
New Instructors participate in Instructor training activities offered by BK&TC and Dogs NSW.
At BK&TC Instructors aim to provide clear instruction and to provide basic dog training skills to members; and for those who wish to pursue it, to provide competition dog obedience training – a precision sport where handlers and their dog perform a standard series of exercises that reflect the level of training and partnership they have achieved. Our Instructors will help you teach your dogs the behaviours you want including to come when called – every time! and to walk on a loose lead.
Training Methods:
At BK&TC we use a range of positive training techniques that are realistic, easy and user-friendly. The 'correct training method' is the one that suits the handler and dog, providing the method used does not include physical or mental cruelty. We offer training options that are flexible enough to respond to the needs of individual handlers. Motivating and training people is as important to us as motivating and training dogs.
Each dog is different therefore the time it takes to reach individual training goals may vary from dog to dog. Dogs' mindsets also differ depending on their breed(s) and different training methods are sometimes necessary to suit the dog.
BK&TC training methods have proven successful in both raising a great family pet and in competition obedience.
Training Equipment:
Leads and collars are available for purchase from BK&TC. Collars can be fitted to your dog on the first night you attend training.
As each dog and handler is an individual and training equipment requirements vary, it is not recommended that you purchase training equipment until you have spoken to an Instructor who can advise you of the best options for yourself and your dog. Using the right equipment for you, correctly fitted, makes a big difference!
BK&TC also recommends that unless you have a small dog that you should choose cotton webbing or leather leads. Nylon leads are only suitable for small dogs.
BK&TC encourages the use of food or a favourite toy as a reward for your dog. Dog treats such as dried liver and Schmackos are also available for purchase from the club.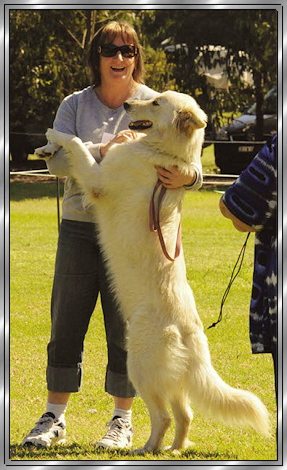 Karen and Belle
Celebrating their first trial and winning the Club trophy for the highest scoring member.